Other News
December 2010
TTA appoints Arva Trading as distributor for Sweden
The appointment of Arva Trading AB as exclusive distributor in Sweden completes the picture in Scandinavia. Arva distributes a portfolio of brands, including d&b audiotechnik, DPA microphones, Optocore, Solid State Logic and Sony.
November 2010
TTA appoints Flemming Sørensen as new sales & marketing manager
With an extensive background in professional audio sales, primarily in the distribution of blue-chip branded products to the Scandinavian market, Flemming Sørensen takes up the job of sales & marketing manager.

Formerly the director of the professional audio department at Danish distribution company Kinovox, Sørensen is now responsible for TTA's international export. He will also oversee national sales for Denmark and Norway, a territory that hosts some of TTA's most extensive and prestigious system installations, including Trondheim's Trøndelag Teater, the new National Opera House in Oslo and the Royal Danish Theatre in Copenhagen.

TTA has a great story to tell, said Sørensen, of talented Norwegian inventors who are designing truly ground-breaking technology for the performance industry. They've had good successes in Europe already, my immediate goal is to take this story further abroad, and match that success in the rest of the world.
September 2010
PLASA 2010
Meet us at PLASA, London, on 12 - 15 September.
TTA will be at our UK distributor Ambersound, stand H12.
August 2010
BURGPLATZ OPEN AIR 2010 - "DER FREISCHUTZ" - WITH STAGETRACKER FX
Wikipedia: Der Freischutz is an opera in three acts by Carl Maria von Weber with a libretto by Friedrich Kind. It is considered the first important German Romantic opera, especially in its national identity and stark emotionality. Its plot is based on German folk legend, and many of its tunes were inspired by German folk music.

The show is an open air performance in Braunschweig - with Stagetracker FX!
July 2010
SCHWERIN SCHLOSSFESTSPIELE IS RUNNING STAGETRACKER FX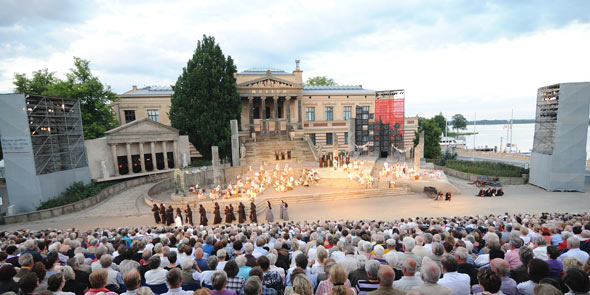 The annual 'Schlossfestspiele' in Schwerin in Germany, wanted to test tracking and audio localisation this year.
Both Stagetracker FX and a competing system were set up for testing.
Stagetracker FX was the only system used during the entire period the show was running!
Click here to see review and pictures in "proaudio.de".

June 2010
ROME, ITALY: "PROMESSI SPOSI" WITH STAGETRACKER FX
May 2010
FIRST STAGETRACKER FX WITH AES50 INTERFACE SOLD TO ITALY !
TTA has introduced support for two new audio interfaces; AES50 and MADI. The AES50 I/O is in particular of interest for Midas users, and this first AES50 system is sold to a customer in Italy to be patched up with a Midas PRO6.

April 2010
STAGETRACKER FX WITH NEW I/O OPTIONS
Stagetracker FX currently supports three audio I/O interfaces:
AES/EBU (AES3)
AES50
MADI (AES10).

All systems can run at eighter 48 kHz or 96 kHz.

MADI can be used with both coaxial and optical cables, and the ease of patching (64 channels per cabel) makes it an ideal solution for integration with several mixing consoles.
The first MADI interfaced Stagetracker FX system is in use. More info will come later.
March 2010
TTA LAUNCES NEW INTERNET SUPPORT SITE AT FRANKFURT PROLIGHT AND SOUND
TTA launces new internet support site with video tutorials and walkthroughs, example setup files from around the world, and download pages for the different software versions.

September 2009
TTA STAGETRACKER FX FOR MADAME BUTTERFLY 'IN-THE-ROUND'
TTA's Stagetracker FX performer tracking and audio localisation system has taken a starring role in an outdoor performance of Puccini's 'Madama Butterfly', presented by the Staatstheater Braunschweig.
Read more...
March 2009
V4 PREVIEW AT FRANKFURT PROLIGHT AND SOUND EXHIBITION
The exciting new Stagetracker FX V4 Tracking Engine software, which promises to revolutionise the set up and use of performer tracking and audio localisation systems, will be unveiled for the first time at the Prolight and Sound exhibition in Frankfurt this year.
Read more...
December 2008
TTA'S STAGETRACKER INSTALLED IN HELSINKI'S SVENSKA THEATRE
Stagetracker, the award-winning performer tracking and audio localisation system from Norwegian theatre specialists TTA, has been installed in the famous Svenska Teater in Helsinki, Finland.
Read more...
August 2008
EXPERIENCE STAGETRACKER FX AT PLASA 2008
TTA will be presenting Stagetracker FX at this year's Plasa exhibition in Earl's Court, London.
Read more...
July 2008
TTA MOVES INTO THE UK WITH AMBER SOUND
Exclusive distribution of TTA products in the UK and the Republic of Ireland has now been established with UK distributors, Amber Sound
Read more...
TTA APPOINT MEGA AUDIO AS EXCLUSIVE DISTRIBUTOR FOR GERMANY
Burkhard Elsner of Mega Audio visited TTA in Norway recently where he saw Stagetracker FX in action on a production of Cabaret.
Read more...
May 2008
STAGETRACKER FX UNVEILED AT NOTT SEMINAR, STOCKHOLM.
Stagetracker FX, the latest incarnation of TTA's Stagetracker system, was presented to the public for the very first time at the NOTT seminar in Stockholm recently.
Read more...
March 2008
TTA AND TTT
The Frankfurt Prolight and Sound exhibition 2008 was chosen as the venue for the signing of an exclusive distribution deal between TTA and Moscow based distributors Theatre Technics and Technology (TTT).
Read more...
February 2008
E-AUDIO APPOINTED AS TTA EXCLUSIVE BENELUX DISTRIBUTOR
TTA are proud to announce the appointment of E-Audio as their exclusive Benelux distributor.
Read more...
January 2008
SVENSKE TEATER IN HELSINKI, FINLAND INVESTS IN STAGETRACKER
TTA are proud to announce the first Stagetracker installation in Finland.
Read more...
TTA SCORES A PALPABLE HIT AS "HAMLET" OPENS THE ROYAL DANISH PLAYHOUSE IN COPENHAGEN
In February, the Royal Danish Playhouse (Det Kongelige Teater) will be inaugurated, the latest jewel in Copenhagen's cultural crown, and another theatrical coup for Norwegian company TTA, whose unique Stagetracker performer tracking system has been chosen for the main auditorium.
Read more...
November 2007
STAGETRACKER PRESENTED AT SOUNDATA SEMINAR, HELSINKI.
Soundata OY is holding a pro-audio seminar 27-28 November 2007 in Helsinki, Finland.
Read more...
SOUNDATA OY TAKES ON TTA DISTRIBUTION IN FINLAND.
Established pro-audio distributors, Soundata OY have been appointed as the exclusive representatives for TTA in Finland.
Read more...
TTA AWARDS BENUM EXCLUSIVE PAN-SCANDINAVIAN DISTRIBUTION
Established pro-audio distributors, Soundata OY have been appointed as the exclusive representatives for TTA in Finland.
Read more...
September 2007
NORWEGIAN NATIONAL OPERA HOUSE INVESTS IN TTA STAGETRACKER
Curently under construction in Bjørvika, the harbour area of Oslo, the 450 million National Opera House of Norway has placed an order for a new Stagetracker 16xr system, the innovative audio tracking and positioning technology developed by Norwegian theatre specialists TTA.
Read more...
August 2007
STAGETRACKER 16XR IN KOLARAC CONCERT HALL, SERBIA
TTA has specified a complete sound system and tracking system solution for Kolarac Concert Hall in Belgrade, Serbia.
Read more...
February 2007
THE BRAND NEW TTA FX AUDIO EDITOR SYSTEM TO TRØNDELAG TEATER
TTA will deliver and install 5 TTA FX Audio Editor systems to Trøndelag Teater in Trondheim, Norway.
Read more...
SEPTEMBER 2006
TTA WINNER OF PLASA06 INNOVATION AWARD!
Aimed at recognising the essential quality of innovation in the fields represented by PLASA - lighting, sound, engineering, AV and staging for entertainment, presentation and installation - this year's Awards was presented at the PLASA Show in London (10-13 September at Earls Court).
Read more...